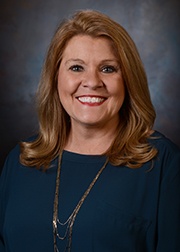 Bio:
Business education was where Tina began her career 34 years ago and there she found her passion–Accounting.  Accounts Receivable/Payable, Payroll, Business Ledgers, Financial Statements and Software Programs led her to an Office Manager position before becoming the General Manager. She gained extensive business knowledge by working with the same company for 20 years. This also set a solid foundation for her continued success in the "Numbers" world.  She became Controller for The Advantage Realty Group and Ellis-Trick Multifamily in 2004, and worked for IMS Management several months before joining the IMS team full time in 2015.
Tina oversees all financial aspects for the construction, development and management divisions of IMS.  Being timely, accurate, organized and professional are qualities that insure she always performs her job at the highest level. Perhaps her greatest contribution is the team support she provides to those around her to achieve team success.
A native of Cullman, Alabama, Tina moved to Tuscaloosa in 1982. She and her husband, Brian, now live in Northport and are the proud parents of two grown children. Their family includes a son and daughter-in-law, Steven and Jenny, and a daughter, Amanda.